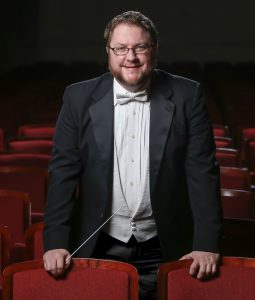 Dr. Langston Hemenway, Conductor, earned his Doctor of Musical Arts degree in Instrumental Conducting from the University of Michigan, his Master's degree in Conducting from the University of Kansas, and a Bachelor's in Music Education from the University of Oklahoma.
Dr. Hemenway is the Assistant Professor of Music and Director of Instrumental Studies at William Jewell College, where he conducts the Symphonic Band, directs the Jazz Band, teaches conducting and instrumental technique classes, supervises music education students, and administrates the instrumental division of the music department.
Dr. Hemenway is an active conductor, adjudicator, and clinician, regularly working with community and school bands from a wide array of experience levels. Prior to his position at Jewell, he served on the music faculty at North Central College in Naperville, Ill. and also taught for seven years as a public school band director in Texas and Kansas, working with distinguished high school programs in the Houston and Wichita areas. He has worked with numerous distinguished composers including Michael Daugherty, John Mackey, Kristin Kuster, Steven Bryant, Joel Puckett, Carter Pann, and Roshanne Etezady.
Dr. Hemenway's professional affiliations include the College Band Directors National Association, the National Association for Music Education, and the Music Educator's Associations of Illinois, Kansas, and Missouri. He holds membership in Phi Mu Alpha Sinfonia and is an honorary member of Sigma Alpha Iota. Dr. Hemenway is published by GIA Music.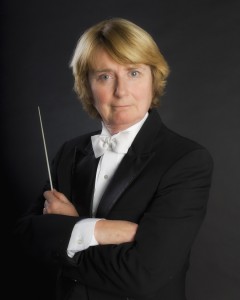 Pat Setser, Associate Conductor, recently retired as Supervisor of Music for the North Kansas City Public Schools and Director of Bands at Winnetonka High School.  Over the years, her bands received consistent 1st Division ratings and performed at the Kennedy Center in Washington, DC, and Carnegie Hall. Ms. Setser is a member of the music staff at the University of Central Missouri.
Recognized as one of the area's most accomplished musicians, Ms. Setser has been a member of Kansas City Wind Symphony since 2002.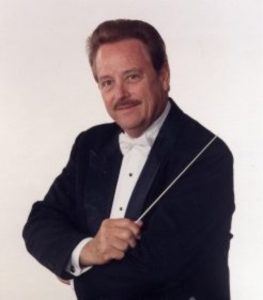 Dr. Phil Posey, Conductor Emeritus, is a graduate of Florida State University and Eastman School of Music and received his DMA in Conducting and Music Education at the Conservatory of Music, University of Missouri-Kansas City.  He has done post-doctoral studies in conducting at the Hochschule for Music in Vienna, Austria and studied with numerous noted conducting teachers including Elizabeth Green, Leonard Slatkin, and Arbo Arman.
From 1965-2004 Dr. Posey served as Director of Instrumental Studies at William Jewell College in Liberty, Missouri,  where he founded the Liberty Symphony Orchestra and served as Principal Conductor.
As a result of a sabbatical leave in 1993, he became the conductor of the Shaanxi Symphony Orchestra in Xi'an China. He has been invited back seven times to conduct the orchestra in concerts and tours.
Flute
Kaytee Dietrich*
Crystal Kimmel
Melissa Peterson
Audrey Swain
Piccolo
Crystal Kimmel*
Oboe
Anne Sneller*+ (English Horn)
Jenny McElderry
Clarinet
Bob Dover*+
Fabrice Curtis
Edwin Fukunaga
Amy Jantz
Diane Karius (Eb Soprano) +
Jill Orrick
Angela Roath
Amber Scruton
Lydia Vermeer
Melissa Zirkel
Bass Clarinet
Pat Setser*
Deborah Hall
Bassoon
Amy Knudsen*
Angela Witt
Alto Saxophone
Travis Meier
Crista Pinkston
Brittney Spencer
Jaedon Tesarik
Tenor Saxophone
Bob Coleman
Baritone Saxophone
Elgin Smith
Horn
R. Brady Finch*
Shelley Peters*
Wendi Calkins Levitt+
Emily Carney
Kassandra Crooks
Linda Finch
Matt LaMar
Scott Sands
Trumpet
Austin Wakat*
Dan Barnett
Ted Hanman
David Hershberger
Andrea Rogers
Victoria Sewell
Scott Stevens
Cynthia Szczesny
Euphonium
Travis Barzee
Casey VanBiber
Trombone
Lee Finch*
Christopher Blair
Mike Burger
Chase Grafton
Benjamin Sachs
Ken Tysick
Tuba
Buck Buchanan*+
Jon Heaver
Double Bass
David Tourtellot*
Percussion
Donna Bohn*
McKenna Clements
Charles Lovell
Daniel McDill
Eric Powers
Cara Tucker
Johnathan Westcott
+ = Charter Member
*=Section Principal/Co-Principal
Business Manager: Robert Coleman
Personnel Director & Volunteer Coordinator: Amy Knudsen
Librarian: Anne Sneller
Webmaster: Wendi Calkins Levitt