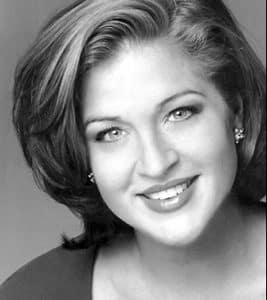 Gwen Coleman Detwiler
Soprano Gwen Coleman Detwiler has been praised by music critics for possessing a voice of "divine beauty" with "sparkling coloratura" and "impressive high­flying top notes." Her solo concert work includes appearances with the San Francisco Opera Orchestra, Cincinnati Symphony Orchestra, San Antonio Symphony Orchestra, Louisville Orchestra and the Colorado Symphony Orchestra. She was the featured soloist along with tenor Nathan Granner at the Kansas City Wind Symphony's "A Night at the Opera" in 2008.
Dr. Detwiler made her European debut as the soprano soloist for the Klassiche Musikfest at the Esterhazy Palace in Eisenstadt, Austria. This season, she premiered a major song cycle that was written specifically for her by American composer, Libby Larsen. The world premiere in Los Angeles received rave reviews.
Audiences have enjoyed her performances at the Chautauqua Institute in New York, and the Song Fest Music Festival in California. A 1999 Metropolitan Opera National Council regional winner, Dr. Detwiler has won numerous national awards for her artistry, including a MacAllister Award, the Italo Opera Award, a Presser Award and the Naftzger Young Artist Auditions first prize.
She is associate professor of voice at the University of Cincinnati Conservatory of Music and lives in the greater Cincinnati area with her husband, Jim and two children, Jacob and Katelyn. She is the daughter of Dr. and Mrs. Robert L. Coleman of the Kansas City Wind Symphony.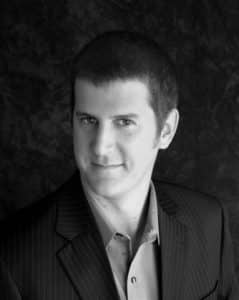 Jacob Sentgeorge
Dr. Sentgeorge has won enthusiastic acclaim for his performances as a soloist with Pro Musica Colorado, the Windsor Symphony Orchestra, and Spire, among several other ensembles. He recently presented solo recitals in Florence, Italy as well as Maryland, Indiana, Kansas, and Florida.
Dr. Sentgeorge received the Doctor of Musical Arts degree in Vocal Performance and Pedagogy from Indiana University, where he studied with Mary Ann Hart. Dr. Sentgeorge has premiered many new works, and he enjoys bringing the traditional repertoire to life in annual faculty recitals at the University of Central Missouri, where he serves as Associate Professor of Voice.*
*
*
*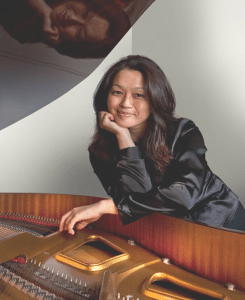 Dr. Koshoeva recently relocated to New Jersey and joined the faculty at the nationally recognized New School for Music Study in the Princeton area. Kairy earned her Doctor of Musical Art degree from the Conservatory of Music at the University of Missouri-Kansas City.  While in the Kansas City area, she appeared as soloist in numerous venues including the Kansas City Wind Symphony and held teaching positions at Rockhurst University, Avila University, Kansas City Community College, UMKC-Conservatory of Music, Park University and the University of Kansas.
She has won awards around the globe including the top prize at the International Piano Competition in Vicenza, Italy, the N. Rubinstein Competition in Paris, France, was a Gold Medal winner of the Rachmaninoff Award in Moscow, Russia, and was awarded first prize at Chautauqua Music Festival in New York. In 2003 she was named Honored Artist of her native country Kyrgyzstan.*
*
*
William M. Buchanan, III (Buck) and Crystal Kimmel
Buck Buchanan began his musical career playing scales on his father's trumpet during his school days at Brookridge Elementary and Nallwood Jr. High. A stint in the Texas high school band culture caused Buck to pick up his first tuba in 1976 at Westlake High School near Austin, TX where he subsequently studied music composition at the University of Texas. Life eventually led Mr. Buchanan back to Kansas where he is currently employed as Senior Vice President of Unified Life Insurance Company, a family owned business located in Overland Park.
Mr. Buchanan is proud of his 30 years of participation in the local band community. An original member of the Kansas City Wind Symphony, he also performs regularly with the award winning Greater Kansas City American Legion Band.
Crystal Kimmel is in her 14th season as Principal Piccolo for the Kansas City Wind Symphony. She has had experience performing as Principal Piccolo with the Kansas City Philharmonia, Olathe Community Orchestra, JCCC Wind Ensemble, and lead alto saxophone for the Penn Valley Jazz Ensemble. In addition, she has played extensively in musical theatre groups on piccolo, flute, clarinet, and saxophone. This musical theater experience includes over 60 different shows spanning 21 years at venues including Shawnee Mission Theatre in the Park, The Barn Players, Leawood Stage Company, The Culture House, and The Jewish Community Center.
Ms. Kimmel is a graduate of Paseo Academy of Fine and Performing Arts in Kansas City, Missouri. When she is not performing she can be found on a golf course with her  sons. She currently resides in Olathe, Kansas with her husband Jere; three sons, Jacob, Caleb, and Noah; and her daughter, Emery.